Nearby places of interest
Dhauladhar mountains as seen from Chintpurni
Sheetala Devi temple :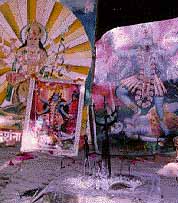 Image of Kali at Sheetala Devi Temple

This temple is located in village Dharmashala Mahantan about 4 km west of Chintpurni on the Chintpurni - Talwara Road (MDR 42). Sheetala literally means "one who cools" in Sanskrit. She is the Goddess who cures poxes, sores, pustules and diseases.

Dharampur Devi Temple: This temple is located in Dharampur village, Talwara Tehsil, Hoshiarpur district. It is about 32 km northwest of Chintpurni and 54 km north of Hoshiarpur city.




Chamunda Devi Temple : Temple of Chamunda Devi is situated on the right bank of Baner river in Kangra district, Himachal Pradesh. The famous Temple is connected with Dharamshala - Palampur National Highway.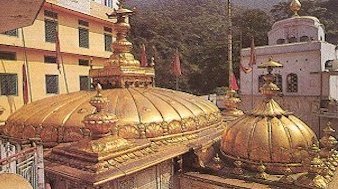 Jwalamukhi Devi temple : Goddess Jwalamukhi is the deity of the flaming mouth. The temple is built over natural jets of combustible gas, believed to be the manifestation of goddess. About 35 km northeast from Chintpurni.
Vajreshwari Devi temple : This temple, which is one of the most famous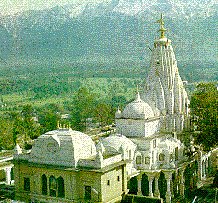 Shaktipeeths of North India, is located in Kangra town. About 50 km north from Chintpurni.
Dharamshala and McLeodganj : About 68 km north of Chintpurni is located Dharamshala, the principal township of Kangra district. Its dense pine and deodar forests, numerous streams, cool healthy air and the nearby snowline make it an attractive place. The Dalai Lama (with his Tibetan government-in-exile) lives in the upper part of town called McLeodganj.
Masroor temples : Located 15 km south of Kangra, this village is known for its monolithic rock temples. There are fifteen richly carved temples in Indo-Aryan style. Only known example of rock-cut temples in North India.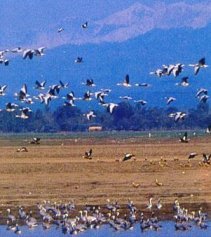 Maharana Pratap Sagar on Pong Dam : This reservoir and wild life sanctuary on river Beas covers an area of nearly 45,000 hectares. More than 200 species of migratory birds visit the lake in winter. Water sports like sailing, water skiing and rowing are allowed on the lake. About 20 km west from Chintpurni.
Pragpur-Garli heritage village :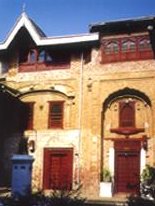 Pragpur - Garli village

Located about 25 km northeast from Chintpurni, this is India's first classified heritage village. Its magnificent buildings - some decaying and crumbling - have largely remained unspoiled, giving Garli-Pragpur a medieval ambience.
Sujanpur-Tira and Nadaun : Sujanpur was established by Raja Sansar Chand Katoch, a great patron of painting, in 1758 as his third capital.
Naina Devi Temple - Temple of Shri Naina Devi Ji is situated on a hilltop in Bilaspur District, Himachal Pradesh, about 115 km southeast from Chintpurni.
Baba Balak Nath Sidhpeeth - Deot Sidh : Located in Hamirpur district, this shrine to Baba Balak Nath is visited by hundreds of thousands of people every year. Guru Adi Nath, who started the Siddha and Nath tradition, is believed to be an incarnation of Lord Shiva. Distance between Chintpurni and Deot Sidh is 88 km via Pragpur and 117 km via Amb and Una.