Mandir and Devi Darshan
The temple is open from 4.30 am to 10 pm in Summer and 5 am to 9.30 pm in winter. Bhog is offered from 12 noon to 12.20 pm. Snana is performed from 7.30 pm to 8.30 pm.
Devotees usually bring offerings for the Devi.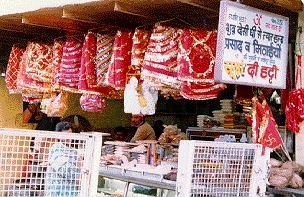 Sweets (eg suji halwa, laddoo, barfi), kheel (sugar-coated puffed rice), batasha, coconut (or other fruits), chunni (red stole), dhwaja (red-coloured flag) and flowers are some of the offerings that devotees bring. You may bring the prasad from home or you may buy it from one of the shops in the bazaar.
You may leave your shoes at one of these shops as shoes (and other leather items) are not allowed in the temple bhavan. Please wash your hands after taking off your shoes. It is also customary to cover your head in the temple bhavan with a cap, shawl or handkerchief.
As you enter the temple main gate, on the right hand side you should see a stone. This is the stone which Pandit Mai Das had dug out to reveal the water spring as commanded by the Devi.
In the center of the Bhavan is the temple garbha griha. The image of Mata Chintpurni Devi is installed here in the form of a pindi (a round stone). Please queue up for a darshan of the Devi and make your offerings.
Archana

Mata Chintpurni Devi image 1

Click here for a larger image


Mata Chintpurni Devi image 2

Click here for a larger image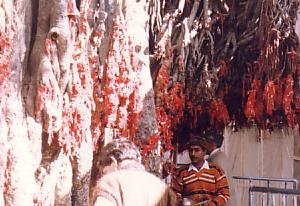 Now you should make a pradakshina i.e. go around the temple in a clockwise manner. The enclosure on the eastern side is often used by bhajan mandalis singing kirtan and bhajans. Please spend a few minutes in the bhavan, listen to the bhajans or just sit down in contemplation.
Adjoining the south wall of the temple, you can see the Vata Vriksha (banyan tree) under which Pandit Mai Das had the divine darshan of the Devi. Devotees often tie a mauli (kuccha red string) to the tree and make a wish.
Moving on, towards the western side you find another branch of the same Banyan tree.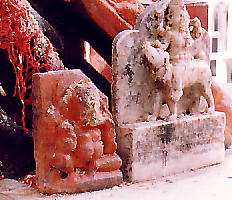 Under the tree, you see images of Bhairav and Ganesh. Bhairav can be identified as the deity with a dog as his companion.
Images of Bhairav and Langur Vir (Hanuman) are also installed on the roof of the temple, next to the shikhar (dome) which was gold-plated a few years ago by a devotee.
Please exit the temple bhavan from the silver-plated western gate.

| | |
| --- | --- |
| | |
| Western exit door | Samadhi of Pandit Mai Das |

On a clear day, you get an excellent panoramic view of the Dhauladhar mountain ranges. Further down the steps on the northern side is located the holy water tank. Pandit Mai Das's samadhi is situated on the eastern side of the water tank.