Himachal Pradesh is quite aptly called "Dev Bhoomi" - Abode of the Gods. There are more than 2000 temples and religious places scattered all over the state. Many of these are quite well-known and attract thousands of devotees throughout the year.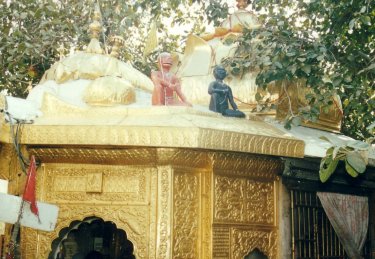 The temple dedicated to Mata Chintpurni Devi (also known as Shri Chhinnamastika Devi) is located in a village of the same name in District Una, Himachal Pradesh.
Devotees have been visiting this Shaktipeeth for centuries to pray at the lotus feet of Mata Shri Chhinnamastika Devi and Mata Shri Chintpurni Devi.
They bring with them their worldly concerns and seek blessings from the Devi.
Devotees believe that if you ask something of the Devi with an honest heart, your wish will be granted.

Major Celebrations

Chaitra Navaratras
April 8 - 15 2016
Ashtami 14 April 2016

Sharad/Ashwin Navaratras
October 1 - October 10 2016
Ashtami 09 October 2016

Shravan Navaratras
August 3 - August 12 2016
Ashtami 11 August 2016

Deepavali 30 October 2016

Please note that the Deputy Commissioner, Una District has passed the following orders to help maintain law and order during the Navaratri celebrations.
No langars are allowed within a radius of 300 metres from the Temple. Coconut offerings, polythene bags are not allowed either.
As a noise pollution control measure, only the Temple Trust loudspeakers are allowed. Playing of brass bands, drums and chimta is prohibited. Carrying of firearms is not allowed except by the relevant security staff.

Sab mil bolo, jai Mata di
Zor se bolo, jai Mata di