Panoramic views from Chintpurni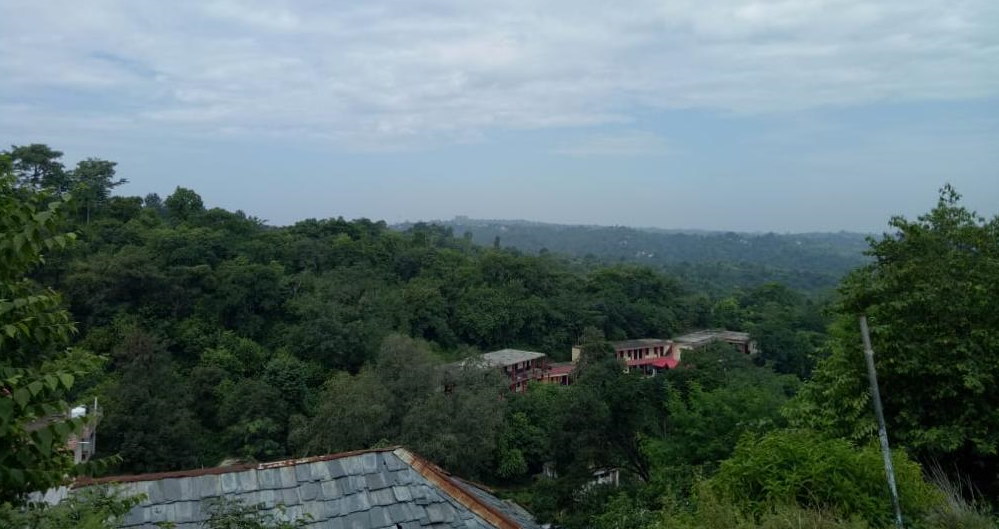 Location
Chintpurni village (elevation 940 metres) is part of Amb tehsil, Una district, Himachal Pradesh. The Mata Chintpurni Devi Temple sits atop the highest peak (elevation 973 metres) of the Sola Singhi range about 3 km west of Bharwain ?????? village which is located on the Hoshiarpur - Dharamshala (NH 503) road. This road is part of the National Highway network and is normally kept in good repair.

Bhakt Mai Das Sadan, Chintpurni Temple Langar Bhavan, New Bus Stand and car parking station are situated about 1.5 km west of Bharwain on the Bharwain-Chintpurni-Talwara road (MDR 42). The Chintpurni Temple Trust provides free breakfast, lunch and dinner in the Langar Bhavan Building. Bhakta Mai Das Sadan has facilities for boarding, lodging and vehicle parking. The Sadan is also one of the four places where devotees register themselves for Devi Darshan and obtain the Temple entry slip.

The Chintpurni Temple Trust has conducted tests on seven-seater e-rikshaws which will provide a free shuttle service between Bhakta Mai Das Sadan and the stairs which lead to the Temple. This free service is now operational.








Chintpurni Temple Langar Bhavan

Bhakt Mai Das Sadan



A bypass road has been constructed for traffic going direct to Talwara. This bypass road takes off from just before the Chintpurni new bus stand and barrier. Private vehicles headed direct towards the temple are generally not allowed beyond this point. Devotees usually walk this distance of 1.5 km to the Temple. A refreshing walk (about 1 km) up a gentle incline brings you to the foot of the hill atop which the Temple is located. Please use the free e-rikshaw service if needed.

Then devotees walk up the steps to the hilltop. Senior citizens, others in ill health or with restricted mobility, may find this climb somewhat strenuous. A lift has been installed at the foot of the hill for their convenience. On busy days disabled persons wishing to use the lift may be required to show relevant documentation about their disability.

During the 3 Navaratri melas and other busy days devotees are required to have a Darshan Parchi (temple admission card) to be able to enter the temple. The Darshan Parchi can be obtained from the security office near the temple or the relevant office located at the Bus Stand and Car Parking complex.


The temple is open from 4.30 am to 10 pm in summer and 5 am to 9.30 pm in winter. The Temple opening hours are extended during the three Navaratras (Chaitra, Shravan and Ashwin). More details are available on the Temple Opening Times page.
Click here for a map showing the location of Chintpurni and Bharwain villages.
Weather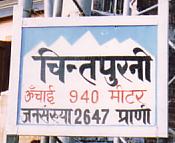 Spring: About mid-February to mid-April. Winter starts to lose its bite around mid-February.
Summer: Mid-April to end of June. It is hot in summer and light cottons are recommended.
Rainy season : July - September. Still quite warm and humid on most days. Plenty of rain.
Autumn : October - November. Days are pleasantly warm, nights are cool. May need light woolen clothing at night and early mornings.
Winter: December - January. It is quite pleasant during the day when the sun is out and you may get by with just one layer of warm clothing. Winter nights are cold and an extra layer of warm clothing is recommended.

In general, temperatures in Chintpurni are about 5 Celsius lower than in the nearby Punjab and Haryana plains. Spring (Vasant) and autumn (Sharad) are perhaps the best seasons to visit because the weather is mild and pleasant.

Current weather forecast for Chintpurni can be found here.
Chintpurni Weather by month and weather averages
January
February
March
April
May
June
July
August
September
October
November
December

Avg. Temperature (°C)

11.1°C
(52.0°F)
13.6°C
(56.5°F)

18°C
(64.4°F)

23°C
(73.4°F)

28°C
(82.4°F)

29.5°C
(85.1°F)

26.1°C
(79.0°F)

25.2°C
(77.4°F)
24.7°C
(76.5°F)

21.7°C
(71.1°F)

16.7°C
(62.1°F)

13.1°C
(55.6°F)


Min. Temperature (°C)

5.9°C
(42.6°F)
8.1°C
(46.6°F)

12.3°C
(54.1°F)

16.7°C
(62.1°F)

21.7°C
(71.1°F)

23.8°C
(74.8°F)

22.5°C
(72.5°F)

21.8°C
(71.2°F)

20.5°C
(68.9°F)

16°C
(60.8°F)

10.3°C
(50.5°F)

7.3°C
(45.1°F)


Max. Temperature (°C)

16.3°C
(61.3°F)

19.2°C
(66.6°F)

23.8°C
(74.8°F)

29.4°C
(84.9°F)

34.3°C
(93.7°F)

35.2°C
(95.4°F)

29.8°C
(85.6°F)

28.6°C
(83.5°F)

29°C
(84.2°F)

27.4°C
(81.3°F)

23.2°C
(73.8°F)

19°C
(66.2°F)


Precipitation / Rainfall (mm)

120
75
102
40
47
105
895
820
273
46
15
49
The average annual temperature in Chintpurni is 20.9 °C. May and June are the hottest months.
The average annual rainfall is 2587 mm of which nearly 2/3rd falls in July and August.

Accommodation
The Navaratra fairs in Chaitra (March-April), Shrawan (July-August), Ashwin (September-October) and the New Year Event (28 December to 2 January) are very popular with devotees when accommodation is expensive and tight. Other popular days are Sankranti, Purnima and Ashtami.
In the last few years Chintpurni skyline has changed dramatically with the arrival of new hotels, shops and food vendors. There are a number of dharamshalas, guest houses and hotels of varying quality in and around Chintpurni. Also Himachal Tourism runs Chintpurni Heights a budget hotel which is located in Bharwain.

How to get there
There are a number of ways to get to Chintpurni from Delhi.
By Road:Delhi - Chandigarh - Rupnagar (Ropar) - Nangal - Una - Mubarakpur - Bharwain - Chintpurni route
If you are travelling by car, it should take you about 8 hours + time for refreshments and toilet breaks on this route. If you are not visiting Chandigarh, you can bypass it by taking the Ambala - Banur - Kharar - Kurali - Rupnagar road. The roads are good all the way through. When you reach Mubarakpur Chowk, take a right turn into the Hoshiarpur - Dharamshala highway. You arrive in Chintpurni after a 35 minute drive on winding roads of the Sola Singhi range. Enjoy the beautiful vistas and fresh air.
An alternative route is Delhi - Ambala - Ludhiana - Phagwara - Hoshiarpur - Chintpurni.
Please DO NOT feed the monkeys on the road. Monkeys have grown in number and they have become a pest in Himachal Pradesh. A number of traffic accidents have been attributed to the motor vehicle drivers trying to avoid the free-roaming monkeys.
Car parking facilities are available at the new Bus Station and Car Parking complex, Chintpurni.

Bus Services: Delhi and Himachal Road Transport Corporation (HRTC) run buses on the Delhi-Chandigarh-Chintpurni route. Many buses running direct on the Delhi-Dharamshala and Delhi-Palampur route often bypass Chandigarh and stop at either Bharwain or Chintpurni. Frequent State Transport bus services are also available from most important cities of Punjab, Haryana, Uttarakhand and Jammu and Kashmir. There are also very frequent buses plying on the Delhi-Chandigarh route (about 5 hours). Chintpurni is another 4.5 hours away by bus from Chandigarh.

Himachal Road Transport Corporation runs a Volvo coach service between Delhi and Chintpurni. As per the current schedule, the bus leaves Delhi ISBT at 6.20 am and arrives Chintpurni at 4.20 pm. On the return journey the bus leaves Chintpurni at 8 pm and reaches Delhi at 5 am. The one way fare is approx. Rs 1000.
HRTC also runs a Volvo tourist coach service from Delhi to Dharamshala which stops at Bharwain by request. The coach leaves Delhi ISBT, Kashmiri Gate at 8 pm and arrives at Bharwain just after 4 am. The fare is approx. Rs 1000. Please inform the driver of the coach that you wish to get down at Bharwain. The coach arrives early morning at Bharwain and you may have to wait for a while before you can catch any kind of transport for the 3 km to Chintpurni. More information is available from the HRTC website https://online.hrtchp.com/oprs-web/.

A fairly complete list of bus services from/to Una is available at this page.



By Rail:

Closest railheads are at Chintpurni Marg (17 km), Amb Andaura (22 km) and Hoshiarpur (42 km). Frequent bus and taxi services to Chintpurni are available from these railway stations.


Vande Bharat Express Delhi - Ambala Cantt - Chandigarh - Anandpur Sahib - Amb Andaura route

The 22447/22448 New Delhi - Amb Andaura Vande Bharat Express is India's 4th Vande Bharat Express train. It connects New Delhi, Ambala Cantt (Haryana), Chandigarh, Anandpur Sahib (Punjab), and Amb Andaura (Himachal Pradesh). It currently runs 6 days (Monday to Thursday, Saturday-Sunday) a week.. This train currently has 14 AC Chair Car coaches (Aqua colour) and 2 Executive Chair Car coaches (Pink colour). The ticket prices are Executive Chair Car - Rs 1865 (without food), Rs 2065 (with food); AC Chair Car -
Rs 925 (without food), Rs 1155 (with food).
The train leaves New Delhi Railway Station at 05.50 am and reaches Amb Andaura (Himachal Pradesh) at 11.05 am covering the distance of 412 km in 5.15 hours. The return journey starts at 1:00 pm and ends at 6:25 pm. These prices are indicative only.

Chintpurni temple is about 22 km away from Amb Andaura. Taxis should be readily available at the Amb Andaura railway station. Himachal Pradesh Road Transport Corporation also runs a bus service connecting Amb and Chintpurni.
Delhi - Jalandhar - Hoshiarpur - Gagret - Bharwain - Chintpurni route
You could take the New Delhi-Amritsar Shatabdi Express from New Delhi (departs 7.20 am and which arrives at Jalandhar around 12.0 noon) or any of the other fast train from Delhi to Jalandhar. Then take a bus or taxi to Chintpurni. Jalandhar to Chintpurni (90 Km.) journey should take no more than 3 hours by private transport. Jammu Mail leaves Delhi station at 08.20 pm and arrives at Jalandhar City at 03.40 am. It has a Hoshiarpur - bound compartment which is detached from this train and is coupled to a local train which leaves Jalandhar at 5.00 am and arrives at Hoshiarpur at 06.25 am. Return journey times are: depart Hoshiarpur 07.15 pm, arrive Delhi 05.45 am. Buses and taxis are available for the onward journey to Chintpurni at the Hoshiarpur bus station.
Delhi - Ambala - Sirhind - Rupnagar - Nangal - Una - Chintpurni Marg route

Himachal Express leaves Old Delhi Station (DLI) at 10.55 pm and arrives at Chintpurni Marg station (CHMG) (near Mubarakpur) via Ambala, Ropar, Nangal and Una at 08.40 am. Return journey timings are: Leave Chintpurni Marg 08.10 pm and Arrive Delhi 05.30 am. Chintpurni Marg railway station is about 17 km from Chintpurni village. This train has AC First class (Rs 1600) , AC 2 Tier (Rs 950), AC 3 Tier (Rs 665), Sleeper (Rs 245) and General (Rs 128) seats. Fares listed are approximate.
A Jan Shatabdi Express leaves New Delhi at 2.35 pm and arrives at Una (via Chandigarh) at 10.10 pm. It is a fast train but these timings are somewhat inconvenient if you wish to travel onwards to Chintpurni.The reverse journey begins at 5 am from Una and the train arrives at New Delhi at 12 noon.

A number of other trains (including a New Delhi-Kalka Shatabdi Express which departs Delhi at 7.30 am and arrives at Chandigarh at 11 am) run between New Delhi and Chandigarh.
Hazur Sahib Nanded - Una Superfast train runs on a weekly basis. You can catch it from New Delhi Railway station at 1.00 pm and arrive Una at 9:50 pm. The return journey times are: depart Una: 3.30 pm; arrive New Delhi at 11.15 pm.
More information is available at the Indian Railways official site http://www.indianrailways.gov.in/
By Air: Nearest airport is Gaggal which is 20 km from Kangra town and 60 km from Chintpurni. Air India and Spicejet fly daily on the Delhi - Gaggal route. Other nearby airports are Amritsar (160 km) and Chandigarh (200 km).
Some distances:
1. Delhi - Chandigarh - Ropar - Nangal - Una - Mubarakpur - Bharwain - Chintpurni : 430 km
2. Chandigarh - Ropar - Nangal - Una - Mubarakpur - Bharwain - Chintpurni : 200 km
3. Jalandhar - Hoshiarpur - Gagret - Bharwain - Chintpurni : 90 km
4. Hoshiarpur - Gagret - Bharwain - Chintpurni : 42 km
5. Kangra - Jwalaji - Bharwain - Chintpurni : 70 km
6. Naina Devi - Nangal - Una - Mubarakpur - Bharwain - Chintpurni : 115 km
7. Vaishno Devi - Jammu - Pathankot - Kangra - Bharwain - Chintpurni : 250 km